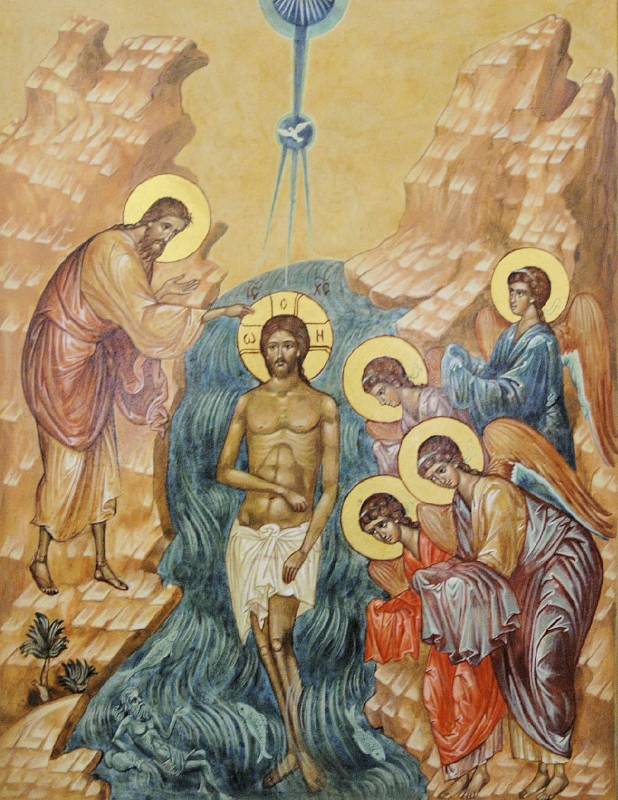 "Welcome one another, therefore, just as Christ has welcomed you, for the glory of God." - Romans 15:7
We're glad that you've taken a moment to come to our parish's home on the web. On behalf of the Parishioners of the Saint John the Baptist Greek Orthodox Church, welcome to our Parish. As you explore our website, please remember that you are always welcome to join us for our services.
We hope that you find our website helpful in understanding the Orthodox Christian faith, and it gives you a better glimpse of our church family. If you have any questions please feel free to contact our church. Have a blessed day!
.
.
.
.
.

St John the Baptist Online Marketplace / The official online store of the Greek Orthodox Archdiocese of America
10% of your purchase is contributed to St John the Baptist Church
Services Schedule
We meet for worship every Sunday morning for Matins and Divine Liturgy followed by a fellowship coffee hour in our church hall.
Sundays: Orthros (Matins): 9:00 AM | Divine Liturgy: 10:00 AM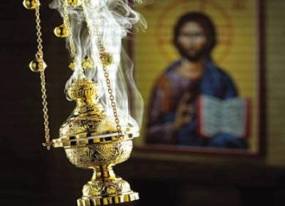 Sunday Services begin at 9:00 AM with Matins; Divine Liturgy follows
Celebrant: Fr. Mark Vinas
Chanters: Gus Moutos, Charles Leontis, Jenny Stuhlmiller, David Jensen
Sexton: Michael Xitakis
Alter Service: Daniel Vanderhoof. George Zavitsanos, Aris Zavitsanos
Special Services
His Eminence Metropolitan Gerasimos has assigned Fr. Ion Coman to serve our parish starting July 1 2015. We extend a warm welcome to Father Ion, Presvytera Carrie, Andrei and Alexie.We are eager to offer our support and work with Fr. Ion toward the renewal and growth of our parish that we have been planning and preparing under the spiritual leadership of Fr. Aris Metrakos over the past two years. Fr. Ion is not a stranger to many of us as he has served our church as a visiting priest on several occasions in the past year.
Father Ion was born and raised in Romania. His grandfather and ancestors of his grandparents were Orthodox priests. He did his graduate level education in Romania, France and the United States between 1986 and 1993. His career in the consumer electronics industry took a turn in 2007 when he enrolled in the master of Divinity program at Holy Cross School of Theology in Brookline, MA. Upon graduation, Father Ion was ordained to the priesthood in June 2011 at the Greek Orthodox Church of Saint Nicholas in San Jose where he has been serving since then. Father Ion is married to Presbytera Carrie and they have two sons, Andrei and Alexie.
Here is what His Eminence Metropolitan Gerasimos wrote to Fr. Ion on May 26, 2015:
I take great pleasure in officially and formally informing you of your appointment as the new parish priest at St. John the Baptist Greek Orthodox Church in Salinas, California effective on July 1, 2015.

Your assignment will present you with many challenges and will demand the very best you have to offer to God and His people. The Church has need today, as it always has, for men like yourself to courageously respond to God's call. It is my fervent prayer and belief that God will grant you His Divine Grace as you begin serving the faithful of our Church with wisdom, integrity and great sensitivity. I wish you and your family all the very best in your new assignment.

+ Metropolitan Gerasimos of San Francisco



We extend a warm welcome to Father Ion, Presvytera Carrie, Andrei and Alexie. We invite you to join us Sunday, July 5 for Fr. Ion's first Divine Liturgy at St. John's followed by a welcome luncheon, where you can individually meet Fr. Ion and his family.

Online Chapel
Upcoming Events
Matins followed by Divine Liturgy
Jul 5 8:30 am
St John the Baptist Church, Park Street, Salinas, CA, United States
Fr. Ion Luncheon
Jul 5 12 pm
St John the Baptist Church, 326 Park Street, Salinas, CA 93901, United States
Men's Coffee Fellowship
Jul 6 10 am
Sweet Elena's Bakery and Café, Olympia Avenue, Sand City, CA, United States
Matins followed by Divine Liturgy
Jul 12 8:30 am
St John the Baptist Church, Park Street, Salinas, CA, United States
Men's Coffee Fellowship
Jul 13 10 am
Sweet Elena's Bakery and Café, Olympia Avenue, Sand City, CA, United States
Festival Cooking
Jul 15 10 am
St John the Baptist Church, 326 Park Street, Salinas, CA 93901, United States
Festival Cooking
Jul 16 10 am
St John the Baptist Church, 326 Park Street, Salinas, CA 93901, United States
Festival Cooking
Jul 17 10 am